Clarence Brown
Son of L.W. Brown, who worked at the Linden Cotton Mill.
Enlisted in Army, May 1917.
105th Regiment of Engineers, Co B.
Landed in France, June 1918.
Died in camp in France.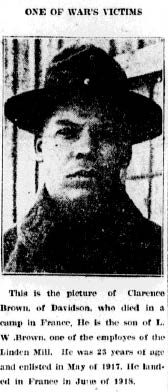 Sources:
"The Charlotte-Mecklenburg Story: The Doughboys & Camp Greene." Charlotte Mecklenburg Public Library, nd. Web. 1 May 2014.
"The Delburg and Linden Mills of Davidson have Helped Many Poor Boys To Achieve Their Independence." Charlotte Observer, Textile Progress Edition, 3 Jan 1919: 29.